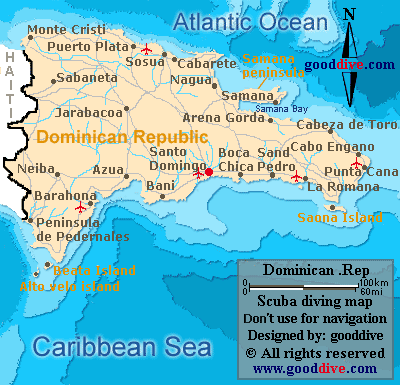 Yes, it's true. FINALLY. At sundown tonight we plan to set sail for points east. We will follow the coast at night to take advantage of the off shore breeze you typically get here which is much kinder to sailors and sailboats than the straight day time trades. We hope to go about 12 hours and pull into a little bay called Rio San Juan 55 miles along the coast (east of Cabarete). The next night we would do the same making Escondido (on the north shore of the Samana penninsula). Now we'll have to decide whether to go into the big Samana Bay on the eatern end of the Domincan Republic or skip it and go straight down to Punta Macao (north of Punta Cana). This is our planned jumping off point then to cross the Mona Passage for Puerto Rico. Hope to post before then but I may not be able to.
All set here. We've checked out with immigration, customs, and the Comidant! Everyone has been paid, passports stamped and we have our Despacio which is not soup but a piece of paper that allows you to . . . well, leave I guess.
I guess I'd like to not spend 6 months (not counting our 6 week visit home) in the same place but this certainly fit the bill for us this year. Good people here. Well protected waters for hurricane season. We hope we remember how to sail! Well, from here it will be a LOT of motor and main as no matter what we are heading just about dead up wind.
Onward!