CNN: Archaeologists in Israel have discovered what they believe is the bust of a Roman boxer from the second or third century.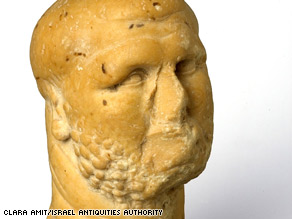 The figurine is small -- about 6 centimeters high by 4 centimeters wide -- but very detailed, archaeologists say.
At first the archaeologists thought that pieces and parts had broken off the sculpture but x-ray analysis shows that the sculpture is intact and, well, being a boxer, some parts are bound to be missing.
Also while seeming small it is known that Roman boxers were bred to have unusually small heads so as to make smaller targets for their opponents. This one, while only being 6 x 4 cm (2.5 x 1.5 inches) was probably the real head size of a six foot four, 240 pound heavy weight.
Hmm....Interesting.