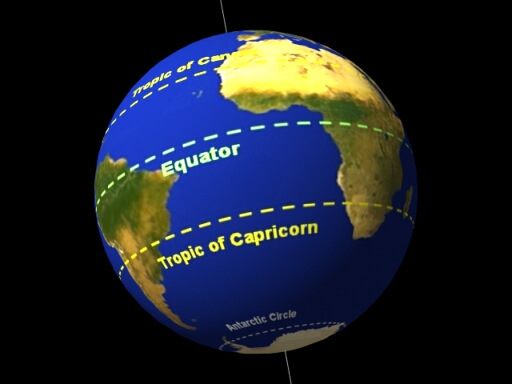 Hi all. I've started to do a "Monday morning Astronomy Minute" on our VHF net. Thought I'd start to share them with all the readers. Here's the one for tomorrow Dec 22.
Good morning Grenada Cruisers Net. This is Scott on Enee Marie. It's Monday and time for our weekly astronomy minute for December 22.
So, Happy winter solstice to one and all! The moment of the solstice was yesterday actually but close enough. The winter solstice means a number of things.
This is of course the shortest day of the year for those living in the northern hemisphere. It IS the shortest day because it is the day when the sun takes it's most southerly trip through our sky. That also means that a man could stand in the shade of his own sombrero by standing on the tropic of capricorn at local noon on this day.
And why is 23.5 degrees south CALLED the tropic of capricorn? It is because about 2000 years ago the sun was in the constellation Capricorn on this day. Due to the precession of the equinoxes the sun is now in Sagittarius. What THAT means for all of you who read your horoscope is that you've been off by one zodiac sign all this time!
By the by. . . Virtually EVERY newspaper has a daily horoscope column and virtually none have a regular astronomy column.
So here comes Dec 25 and you know what that means. . . YES! Happy birthday Sir Isaac Newton. Cheers! And Enee Marie is CLEAR!